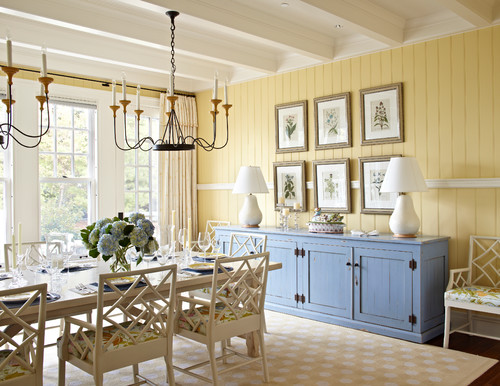 . Uplifting Colors
Colors are gravitating toward warm and happy shades that convey a sense of coziness, comfort, and wellbeing. This year's palettes draw from earthy hues, warm neutrals, and soothing blues and greens.1
While white and gray are still safe options, expect to see alternative neutrals become increasingly popular choices for walls, cabinets, and furnishings in 2021. For a fresh and sophisticated look, try one of these 2021 paint colors of the year:
Aegean Teal (coastal blue) by Benjamin Moore
Urbane Bronze (brownish-gray) by Sherwin-Williams
Soft Candlelight (muted yellow) by Valspar
On the opposite end of the spectrum, indigo, ruby, sapphire and plum are showing up on everything from fireplace mantels and floating shelves to fabrics and home accessories. These classic, rich hues can help bring warmth, depth, and a touch of luxury to your living space.
To incorporate these colors, designers recommend using the "60-30-10 Rule." Basically, choose a dominant color to cover 60% of your room. For example, your walls, rugs, and sofa might all be varying shades of beige or gray. Then layer in a secondary color for 30% of the room. This might include draperies and accent furniture. Finally, select an accent color for 10% of your room, which can be showcased through artwork and accessories.2